High zinc motor oil is a type of engine oil that contains zinc additives to reduce friction. Every old car owner uses zinc-based oil to feed their old engine to decrease the engine pressure produced by metal friction and heat. 
But finding the top quality high zinc engine oils is a daunting task as modern cars don't need this oil type anymore. And you can't get the protection your old engine needs from modern synthetic oil.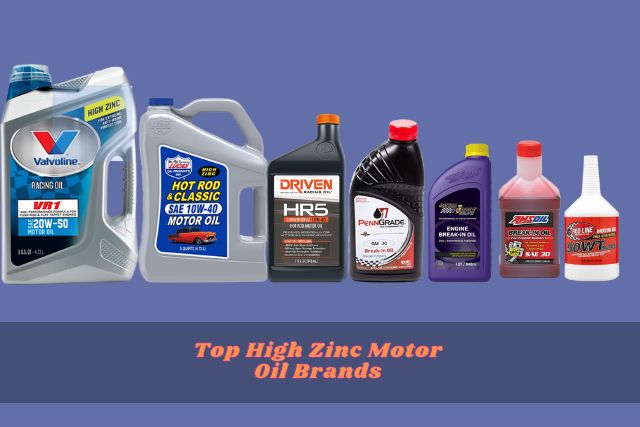 Luckily, we discovered the top high-zinc motor oil brands that come with zinc and phosphorus additives.
So, you don't need to worry about the wear & sludge. So, read through the lines to pick the ideal oil for your classic cars. 
Table of Contents
10 Best High Zinc Motor Oil Brands
Consider the following motor oil brands that offer high-zinc motor oil for your classic cars. 
01. Valvoline
Valvoline is one of the leading racing oil brands. It started its journey in 1866, and since then, it has become one of the leading marketers and suppliers of premium branded lubricants.
It ranks as the No.3 passenger car motor oil brand in the DIY market by volume.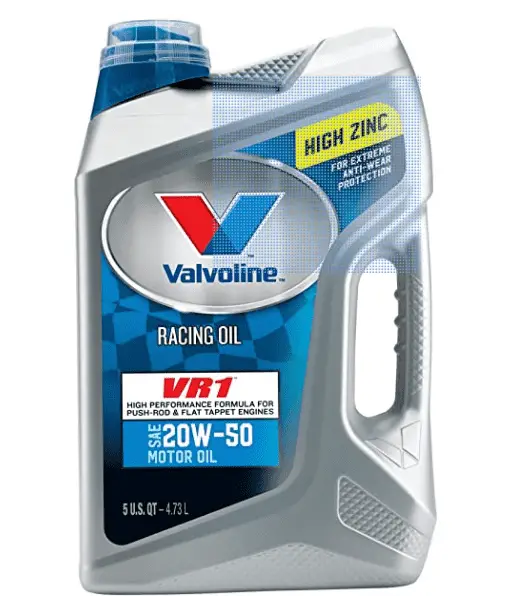 It provides motor oil, grease & gear oil, automatic transmission oil, and heavy-duty oil for every type of vehicle. Indeed, thousands of car owners rely on Valvoline to lubricate their engines. 
When it comes to high zinc motor oil for your racing cars, you can hardly find an oil brand that can beat Valvoline. The high zinc formula of Valvoline oil provides superior protection for high-performance engines. 
Due to the high zinc and phosphorus formula, wear & sludge can't bring any damage to your engine.
In other words, Valvoline Oils will keep the metal parts of your engine well-lubricated under heavy conditions for why Valvoline VR1 racing motor oil is extremely popular to racing car users among all racing motor oils.
Every Valvoline 10W-30 Oil with Zinc or 20W-50 Motor Oil contains 1350-1400 ppm zinc and 1250-1300 ppm phosphorus.
So, you can pour the oil into your high-performance cars, racing muscle cars, and flat tappet engines. Here is the most popular Valvoline motor oil with Zinc you can go for:
Valvoline VR1 Racing SAE 20W-50 High Zinc Motor Oil
02. Lucas
Keep That Engine Alive! We hope you are familiar with this sentence if you have a vehicle. Yes, we talk about Lucas.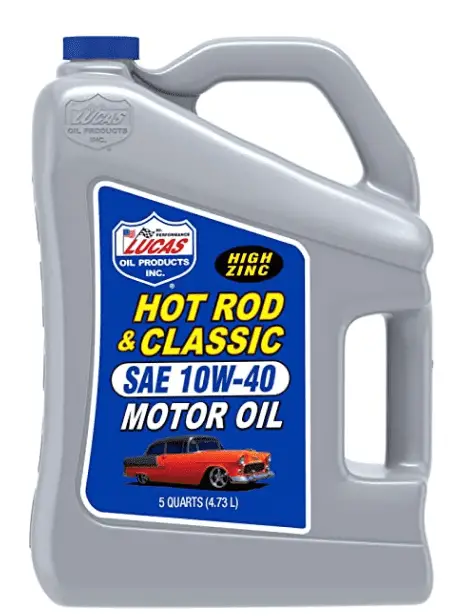 Forrest and Charlotte enter into the lubricant and oil additive world with this vibe: Produce the best line of lubricants and additives.
This oil brand produces a premium line of oils, greases, and additives that makes it stand out from the crowd. 
Lucas's high-performance motor oil with high zinc is the most powerful in its oil lineup. The oil is specially formulated and fortified with a unique additive package containing high levels of zinc.
In other words, Lucas oil provides a tougher and thicker oil film that sticks with moving parts of your engine for a long time. As a result, wear & sludge can't build their home in the engine compartment, which prolongs the engine life even under severe conditions.
Apart from these, Lucas's high zinc oils also have good cold properties and stand up to high operating temperatures. It means Lucas oils deliver unmatched engine protection both in extreme and cold temperatures. 
You can get the Locas high zinc oil for classic cars, high-performance, muscle, and racing vehicles. Here is the high zinc oil list that comes from Lucas.
Lucas SAE 10W-40 Hot Rod Motor Oil
Lucas Oil SAE 30 High Zinc Engine Break-In Oils
03. Royal Purple
Royal Purple is another oil brand that also provides high-quality motor oil for passenger cars to high-performance cars. You can also find gear oils, powerful additives, and synthetic lubricants from Royal Purple.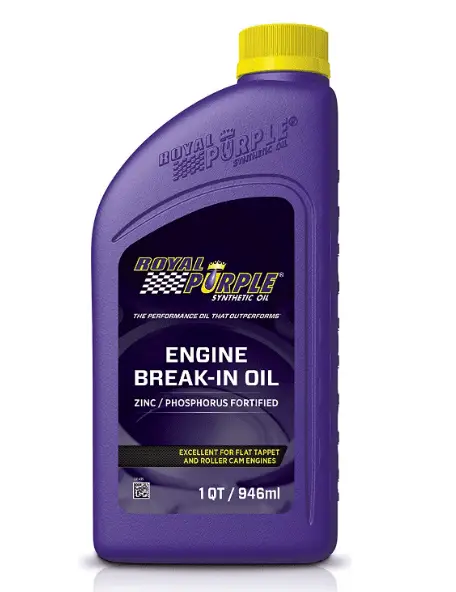 Like other brands, Royal Purple also provides high zinc oil for your classic engine and camshaft. It delivers unsurpassed engine protection against wear & sludge.
The break-in engine oil combines highly refined mineral oil with advanced additives that contain high levels of zinc and phosphorus. As a result, the oil can optimally optimize wear protection during the sensitive engine break-in phase. 
Unlike other high zinc oils, the motor oil from Royal Purple is a fully formulated 10W-30 conventional oil. So, you don't need to add any chemical additives. 
This high zinc oil from Royal Purple will be the best trait for high-performance engines, especially those that come with flat tappet camshafts. You can bring the following Royal Purple high zinc oil for your classic car.
Royal Purple 11487 Engine Break-In Oil
04. Brad Penn
The original green oil! This sentence perfectly resembles the Brad Penn refinery oil. Brad Penn collects and purchases crude oil domestically from Pennsylvania, Ohio, New York, and West Virginia.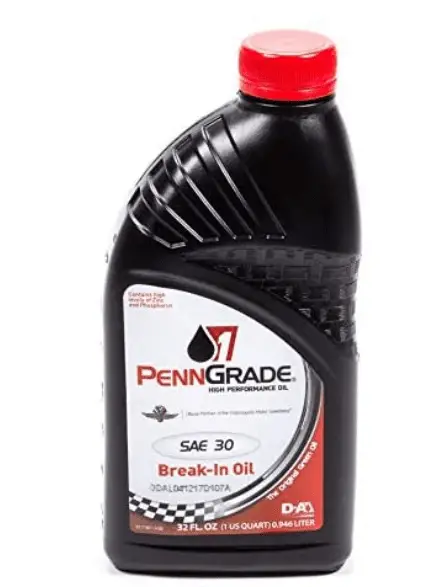 And guess what, the crude oil contains no asphaltic components that make the oil thermally stable. In other words, the oil doesn't thin out or break down quickly at high temperatures.
That's why racers, engine builders, and enthusiasts love Brad Penn's oils. And green color oil named Penn Grade 1 High-Performance Oil from Brad Penn gained a huge buzz for its quality and performance. 
Penn Grade 1 High-Performance Oil from Brad Penn uses a unique base oil as its formulation that gives exceptional film strength. Because of it, the oil clings to every moving part of the engine and lubricates them.
As a result, your engine will experience reduced wear & tear. Turns out, this oil has unique detergents and additives to ensure exceptional engine cleanliness. 
Apart from the unique base oil cut, it contains zincs or ZDDP to deliver superior anti-wear protection for the flat tappet engine.
Here is the list of two widely-accepted zinc-based oils from Brad Penn you can trust for your racing car or flat tappet engine:
Brad Penn Oil PK 20W-50 Partial Synthetic Racing Oil
Brad Penn Penn Grade 1 SAE 30W Break-in Oil 
05. Amsoil
Amsoil makes a big name in producing high-quality synthetic oil that meets the challenges your vehicle encounters.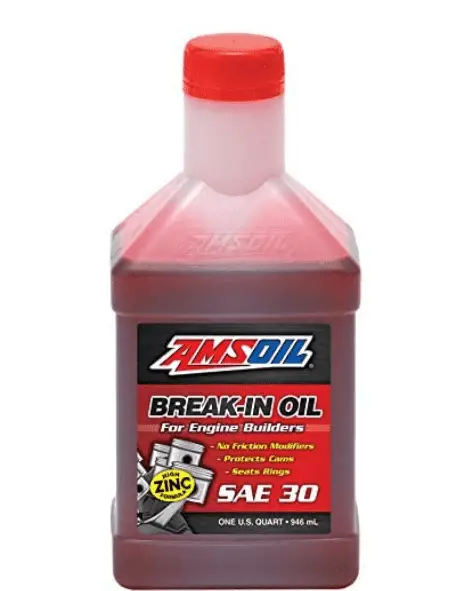 Because of the extraordinary performance of this oil, it makes its position in the market. Every car owner loves to pour it into their car to let the engine run smoothly. 
When it comes to lubricating the engine with a flat tappet, Amsoil will be your go-to motor oil. It contains zinc and phosphorus anti-wear additives.
Due to this, wear and sludge can't bring any harm to your engine during the break-in period. This oil lubes every moving part optimally and protects cam lobes, lifters, and rockers from wear. 
Therefore, Amsoil oil also maximizes engine performance. It reduces metal friction and decreases the stress on the engine to boost up horsepower. If you want to pick the high zinc oil from Amsoil, go for the following one.
06. Driven Racing Oil
Driven Racing Oil, as the name suggests, is completely formulated for lubricating racing car engines. But today, they developed their innovation in a way that extends their range from the racetrack to the street.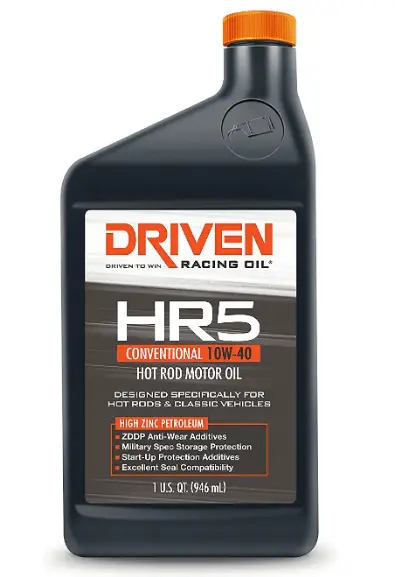 In simple words, this racing oil brand now also provides full synthetic oil for passenger cars. 
Like other high zinc oil, the oil for classic engines has high ZDDP contents. Due to this, no wear will occur as this lubricant keeps every engine component well-lubricated.
Plus, its advanced synthetic base oil also lubes the metal parts, which reduces friction and extends oil change intervals. 
Besides, its Military Spec storage protection ensures optimum engine protection during winter storage.
In other words, rust and corrosion will fail to make their way to damage your car engine. Check the list of best racing oil with zinc that come from Driven Racing Oil:
Driven Racing Oil Hr-5 10w-40 High Zinc Conventional Oil
Driven Racing Oil HR-5 Conventional Hot Rod Motor Oil
07. Castrol
Castrol is a British lubricant brand that offers a wide range of oil, oil additives, greases, and similar products for lubricant applications.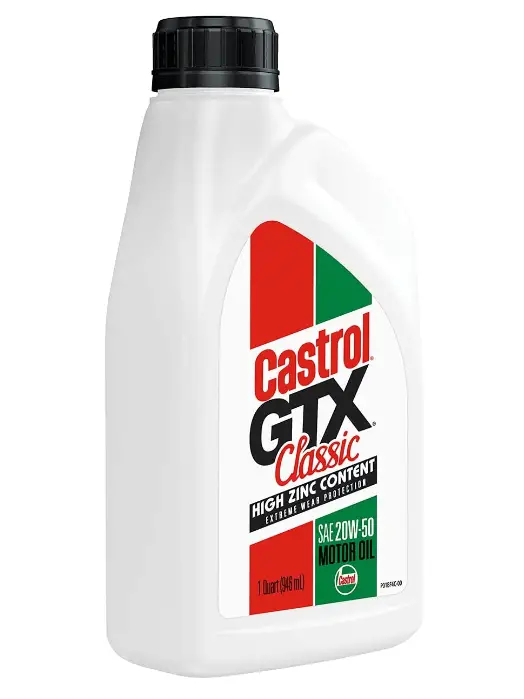 When it comes to zinc-based oils for classic cars, Castrol will be a reliable name you can trust to ensure optimum engine performance. 
The zinc additive Castrol oil is generally heat-activated. As a result, this oil provides excellent engine protection against wear & sludge. During engine operation, the ZDDP anti-wear film this oil contains sticks with every moving part. 
In return, no wear & sludge will form as this oil reduces metal to metal contacts. In short, Castrol Oil which contains zinc delivers unmatched engine protection and boosts up engine performance. Here is a high zinc oil you can consider that comes from Castrol:
Castrol GTX Classic 20W-50 Conventional Motor Oil
08. Maxima
Maxima is also a reliable oil brand you can choose to get high zinc racing oil. Its racing oil is built for racers who challenge the limit of possibility.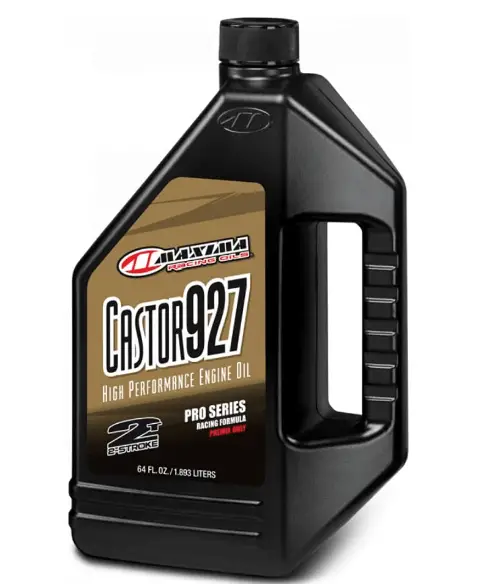 This brand formulates its oil to tackle the higher engine operating temperature and protects moving parts by lubricating them.  
Its high zinc/phosphorus formula is blended with refined & pure petroleum base stocks.
Because of this advanced oil formula, this oil delivers optimum engine protection against wear & extreme pressure. Therefore, it eliminates wear & tear issues with the cams, lifters, and rocker arms. 
This racing oil brand also incorporates an advanced additive system to shield your engine against carbon & gum formation.
Plus, this additive system also delivers superior rust & corrosion protection and thus boosts up overall engine performance.  Here are some examples of zinc-based oils from Maxima Racing Oil you can consider:
Maxima (Castor 927) 2-Stroke Premix Racing Oil
Maxima Racing Oils MAX39 Break-in Oil
09. Redline
Red Line entered the oil industry in 1979. Since then, they have started producing lubricants for the racing industry. Today, Red Line has more than 100 high-quality products like motor oil, gear oil, and oil additives in their line-up.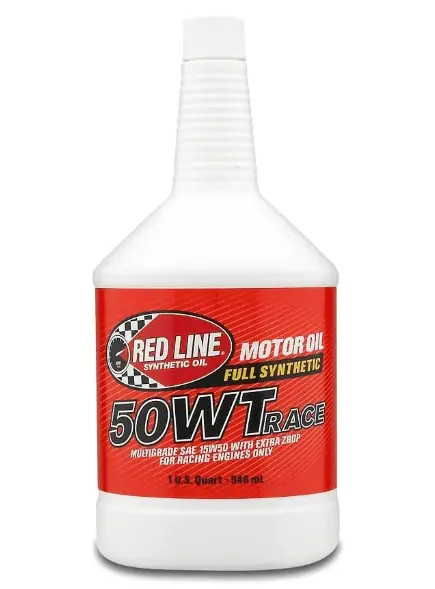 Unlike other oil brands, Redline uses full-synthetic ester formula. It delivers ultimate lubricity, high thermal stability, and ultimate wear protection.
This oil can easily travel to the top of your engine and lubricates every moving part. As a result, it reduces metal-to-metal friction. 
When it comes to zinc-based oil, Red Line manufactures engine oil break-in additives. It contains a high level of zinc and phosphorus. These chemicals are beneficial for camshaft or flat tappet engines. 
For example, you can use this oil additive from Red Line that contains 736 ppm of zinc and 610 ppm of phosphorus in a 15-quart oil can. 
Check out the following oils from Red Line to ensure the superior engine performance of your racing cars. 
Red Line 50WT SAE 15W-50 Racing Motor Oil
Red Line 30WT 10W-30 Race Oil
10. Triax
If you're looking for a reliable brand of engine oil that's known for producing high-quality engine oils, Triax is the perfect choice for you. The TRIAX Protection Plus 10W-40 High Mileage is a semi-synthetic oil with 25% more zinc in it compared to regular engine oils.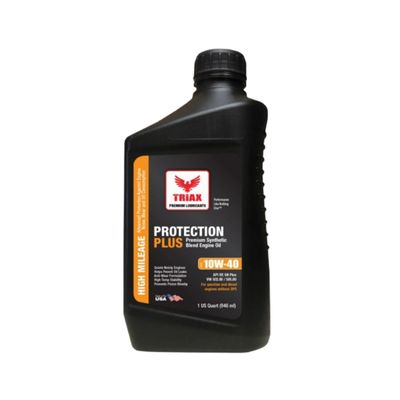 It protects the vehicle from extensive engine wear as it comes with performance boosters and wear-reduction technology. It also minimizes the chances of leaks, noise, oil burning, and deposits. 
Along with Zinc, it also has a high amount of Molybdenum and Boron concentration for maximum engine life.
The Triaz Protection Plus offers great protection against bore polish, scuffing, and bearing wear. 
It also has great viscosity stability against oxidative thickening and has great anti-corrosion properties. All these features make it an excellent and reliable engine oil. The following one is the top zinc bearing engine oil from TRIAX:
TRIAX Protection Plus 10W-40 High Mileage
However, all the above motor oil brands produce high motor oils. But, among all, Valvoline is the most popular for which it's leading all racing oil brands.
Benefits Of Using High Zinc Motor Oils
Even though modern cars don't need high zinc motor oil to function, there are numerous benefits to using it. Here are the most prominent ones:
1. Works Well In Extreme Conditions
Regular engine oil won't do a great job when there are frequent changes in the temperature, conditions of the road, and high-speed driving.
But oil with a high amount of zinc additives provides good resistance against heat and oxidation, which results in smooth performance.
2. No Cold Start Failure
Using the wrong engine oil can lead to issues with starting the car in extreme weather conditions, especially when it's cold.
But high zinc motor oils perform well even in this low-temperature situation. You're not likely to face any trouble when starting the car with this type of engine oil.
3. Better Protection At High Speeds
When you drive the car at high speeds, the camshaft of the engine rotates and presses its lobe to open the engine valves. Regular motor oil can get squeezed through the lobes due to the pressure build-up.
The lack of oil can lead to parts rubbing on each other and damaging your vehicle. But a high-zinc motor oil has anti-wear properties that'll keep the engine protected even in this condition.
FAQ:
What motor oil brand contains the highest amount of zinc than others?
Undoubtedly, Valvoline VR1 Racing Motor Oil contains the highest amount of zinc compared to other motor oil brands. The amount of zinc included in the Valvoline is 1400 ppm. So, you can go for it to protect your old engine from wear & sludge. 
Is Shell Rotella high zinc?
Yes, Shell Rotella Engine Oil contains a high level of zinc, but not more than Valvoline. The increased amount of zinc will benefit your classic and high-performance cars. 
What is the highest quality motor oil?
Here is the list of the highest quality motor oils:
1. Valvoline VR1 Racing SAE 20W-50 Motor Oil 5 QT
2. Lucas SAE 10W-40 Hot Rod Motor Oil
3. Mobil 1 Racing oils
4. Royal Purple 11487 Engine Break-In Oil
5. Amsoil Break-in Oil
6. Driven Racing Oil 03806 Hr-5 High Zinc Conventional 10W-40 Quart
7. Castrol GTX Classic 20W-50 Conventional Motor Oil
8. Lunati DRV02107 15W-50 Driven HR-1 High Zinc Hot Rod Oil
Should you add zinc to engine oil?
Whether you need to add zinc to your engine oil or not will depend on the age of your car engine and how you use it. Zinc additives will help to protect your engine from wear & sludge. So, it will be beneficial to add zinc. 
Can you add too much zinc to oil?
No, you shouldn't add too much zinc to oil. If you do so, it makes your engine oil acidic, damaging the cams, bearings, and bushing by wearing. 
Conclusion
High zinc oil is an absolute need for your old and high-performance cars. Zinc additives will offer superior engine protection by preventing wear and sludge. As zinc-based oil prevents wear & sludge, it reduces the stress on your engine.
In other words, this type of oil will boost your old car engine performance. And the oil brands we mentioned above are reliable oil brands that contain a high level of zinc. So, you can choose any of them.